Kenari Quartet Named Fischoff's
2023 Ann Divine Educator Award Winner
Notre Dame, IN – The Fischoff National Chamber Music Association is delighted to announce that the Kenari Quartet has been selected as the winner of Fischoff's 2023 Ann Divine Educator Award. This national award recognizes the educational outreach work of Fischoff Competition alumni who have demonstrated outstanding and imaginative programming for children and youth in the United States. It honors musicians who have established professional careers in chamber music, and have proven their ability to successfully build a career in both chamber music performance and educational outreach.
Named in honor of longtime Fischoff Executive Director Ann Divine who retired in 2018, this award recognizes her visionary leadership in cultivating community outreach through chamber music. As winner of the Ann Divine Educator Award, Kenari Quartet will receive a coveted endorsement from Fischoff, a cash award, and a weeklong residency in St. Joseph and Elkhart Counties November 27 – December 2, 2023 to conduct workshops and to perform interactive concerts in schools, community centers and libraries. The week will include performances of Fischoff's flagship Stories and Music: S.A.M. I Am program in area schools, which musically reenacts a children's book and will be featured as part of the St. Joseph County Public Library's story time program offerings. Kenari Quartet will also work with Fischoff's Chamber Music Academy and Elkhart County's El Sistema (ECoSistema) students to further introduce chamber music to new audiences, particularly children and teens who would otherwise not have access to these opportunities.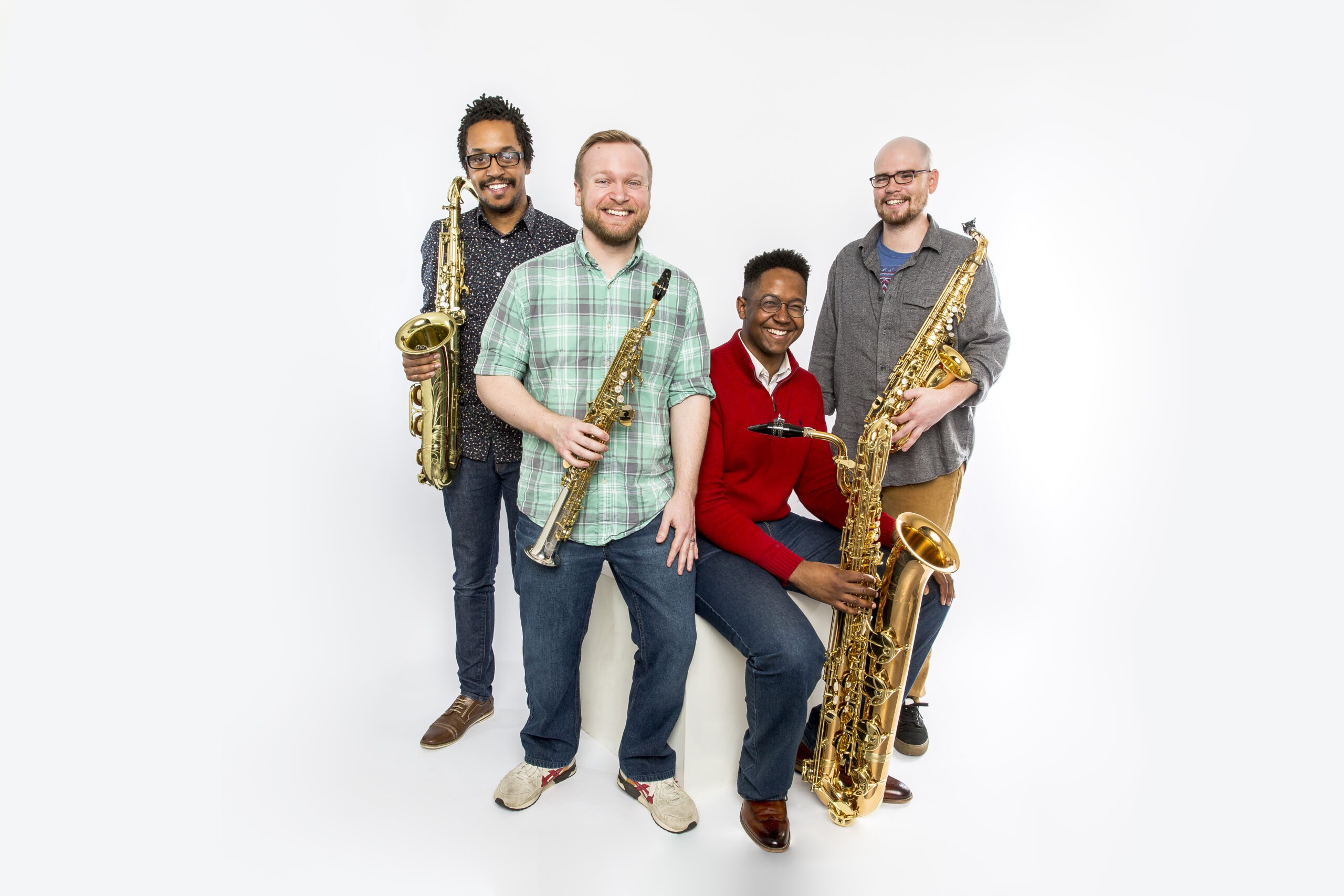 Kenari Quartet, comprised of Bob Eason (soprano saxophone), Kyle Baldwin (alto saxophone), Corey Dundee (tenor saxophone), and Steven Banks (baritone saxophone), is applauded for their "flat-out amazing" performances and "stunning virtuosity" (Cleveland Classical). The highly acclaimed Kenari Quartet delivers inspiring performances that transform the perception of the saxophone. The quartet aims to highlight the instrument's remarkable versatility by presenting meticulously crafted repertoire from all periods of classical and contemporary music. The Kenari Quartet has found a home performing on many of the premiere chamber music series in the United States. Recent engagements include appearances at Chamber Music Northwest, the Grand Teton Music Festival, and Chamber Music Tulsa. For more than a decade Kenari has been committed to giving back to their communities performing engagement concerts for audiences of all ages. Their educational work for children includes workshops and masterclasses at universities, K-12 schools, youth centers and libraries. Recent residencies have reached hundreds of students at String Theory, San Antonio Chamber Music Society, Chamber Music Tulsa, "Out of the Bachs" at Baldwin Wallace Conservatory, and as Protégé Project Artists at Chamber Music Northwest.
Formed in 2012 at Indiana University, the quartet's name is derived from the Malay word kenari, which may be translated as "songbird." Expanding on the age-old idea that birds communicate through song, the Kenari Quartet seeks to exemplify this concept through concert hall performances. By connecting with their audiences not only via song, but also through physical movement, Kenari amplifies the standard concert experience with their striking visual communication and powerful stage presence.
This past November, Fischoff's S.A.M. I Am featured the fun, futuristic, fractured fairy tale Interstellar Cinderella (Cenicienta Interesterlar) performed by Fischoff alumni, WindSync, for second graders across Michiana. Over 900 students in under-resourced schools in South Bend, Elkhart, Goshen and Concord school districts participated in this transformational reenactment intended to help teachers ignite student's love of reading and continue to bridge the learning gap that was heightened during the coronavirus pandemic. Fischoff Executive Director Scott Campbell, and the entire Fischoff team, are excited for the return of the Kenari Quartet to South Bend and the surrounding Michiana area. "Kenari captivated Fischoff audiences in 2013 and 2015 garnering silver medals each year and was invited to be our featured artist ensemble at our "Red, Hot & Jazz" gala. A balance of technical virtuosity, creativity and innovative spirits, we look forward to sharing Kenari's talents with our community. We can't wait to see what creative twists S.A.M. I Am will take with them."
Bob Eason, soprano saxophonist Kenari responded, "We are so thrilled to be selected as the winner of the Fischoff National Chamber Association's Ann Divine Educator Award! The Fischoff competition had a profound and lasting influence on our ensemble, and we are so thankful for those experiences. We've been hard at work developing outreach projects, and we are excited to explore the story-telling potential of Fischoff's S.A.M. I Am program!"
Fischoff's Educator Award Residency is generously made possible by lead sponsor Shein Charitable Trust.
Contact: Kara Kane, Education Director
574.631.2903
kara@fischoff.org
www.fischoff.org
Founded in South Bend, IN, in 1973, the Fischoff National Chamber Music Association hosts the Fischoff Competition, the largest and longest running chamber music competition in the nation. More than 7,800 musicians have participated, many of whom have gone on to distinguished careers in music performance and education.
This unique arts organization has secured its place as the nation's premier educational chamber music competition because of the caliber of its jurors, performance venues and well-known alumni. It is also known for extensive outreach programming during the competition and throughout the year. The Fischoff uniquely partners with competition alumni to bring free, innovative music programs directly to children in their own schools and community centers. Since 1995, these programs have served more than 95,000 community children, reaching more than 4,000 underserved youth annually.